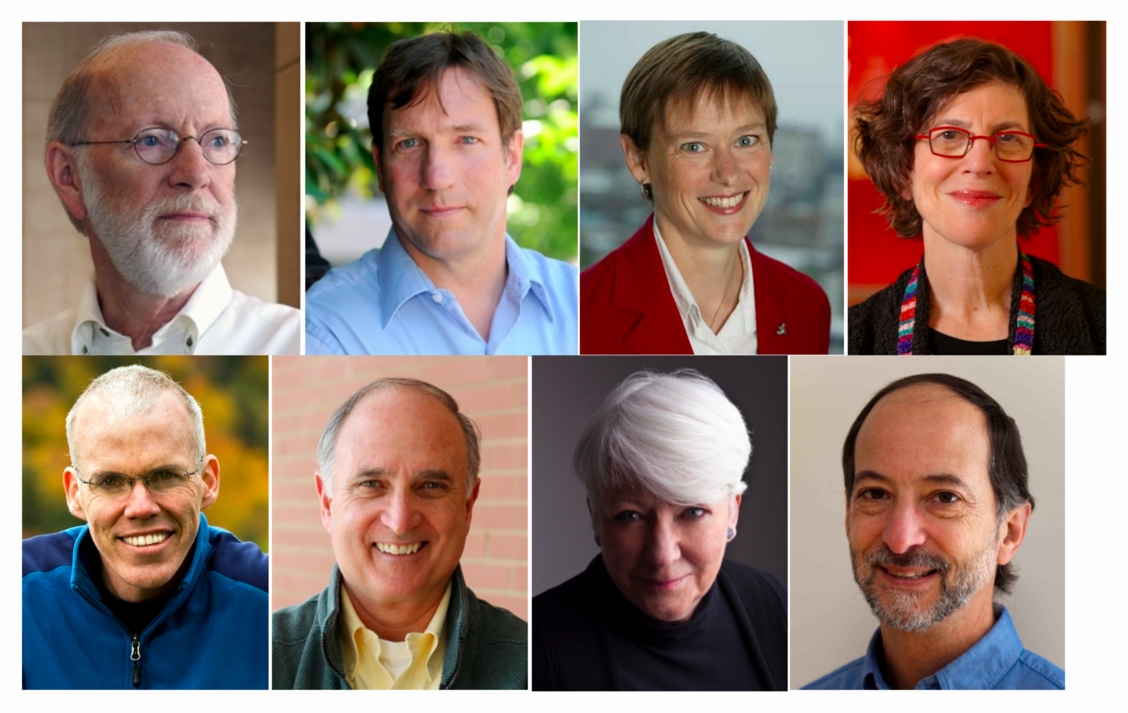 I am thrilled to introduce this eminent group of experts that comprise the Resilient Design Institute's Advisory Board. Not only do I have the good fortune to call these individuals friends, but they are leaders in their fields: architects, engineers, professors, consultants, and environmentalists—people who are making a tremendous difference in the world of resilience and to whom we all owe an incredible debt of gratitude.
Though I suspect that some of these faces will be familiar, let me introduce the group.
Bob Berkebile, FAIA
More than anyone else, Bob is the father of the green building movement. Since founding the AIA Committee on the Environment in the late 1980s, he has championed a needed paradigm shift in the way we design and build in America and worldwide. Bob was a founding member and early board member of the U.S. Green Building Council, he received the Heinz Award from the Heinz Foundation in 2009, and his firm, BNIM of Kansas City, Missouri, was named the AIA Firm of the Year in 2011.
Bob has developed a specialty of helping communities pick up the pieces following natural disasters and creating something better out of the devastation: from relocating towns along the Missouri River in the 1990s to re-envisioning New Orleans following Hurricane Katrina in 2005, to helping Greensburg, Kansas emerge from a devastating tornado as a model of a green community.
Bill Browning, Hon. AIA
Bill is the founder of Terrapin Bright Green in New York City and Washington, DC, a consulting firm that is helping businesses, organizations, institutions, and governments around the globe create more environmentally responsible facilities and programs. Bill brings to this company his unparalleled ability to synthesize multidisciplinary fields and turn challenges into opportunities. Bill worked for many years at the Rocky Mountain Institute and founded RMI's Green Development Services. He was a founding board member of the U.S. Green Building Council, in 2001 he was named an honorary member of the American Institute of Architects (one of a small number of non-architects so recognized), and in 2004 he received USGBC's Leadership Award.
Bill was a key participant in a series of charrettes following Hurricane Katrina, from which the New Orleans Principles emerged, and he has been a sounding board for me for years in my efforts to advance passive survivability and resilience.
Fiona Cousins, P.E.
Fiona leads the sustainability team in the New York City office of Arup, one of the world's leading engineering firms. A mechanical engineer by training, she has spent much of her career engaged in HVAC design, with an area of specialization in thermal comfort and energy efficiency. I worked with her several years ago when I was working on an article for Environmental Building News, "Rethinking the All-Glass Building"; her team was invaluable in helping me understand the energy impacts of heavily glazed commercial buildings and her team carried out extensive energy modeling that provided the backbone of the article.
Fiona has become increasingly focused on resilience and adaptation to climate change. She co-authored the highly informative book Two Degrees: The Built Environment and Our Changing Climate (Routledge, 2013), and she was project director for the Arup support team that synthesized input from 30 appointed commissioners into the 200-page NYS 2100 Commission Report, "Recommendations to Improve the Strength and Resilience of the Empire State's Infrastructure" (2013). She serves on the national board of the U.S. Green Building Council and is based in New York City.
Mary Ann Lazarus, FAIA
I first got to know Mary Ann when she was helping lead the Hurricane Katrina Charrettes. As the firm-wide sustainable design director for HOK, one of the nation's largest architecture firms (with 24 offices spread over three continents), she has had an influence in guiding the greening of hundreds of projects.
Mary Ann is the co-author of the HOK Guidebook to Sustainable Design, Second Edition, and was named a notable influence and voice for promoting sustainable design in the 2012 Design Futures Sustainable Design Survey. She is based in St. Louis, where she also serves as a trustee of Washington University.
Bill McKibben
Bill really needs no introduction. He is the Schumann Distinguished Scholar at Middlebury College and author of a dozen books about the environment, including The End of Nature, which was the first popular book to raise alarm bells about climate change back in 1989. He is a frequent contributor to The New York Times, The Atlantic Monthly, Harper's, Rolling Stone, and Outside. He has been awarded Guggenheim and Lyndhurst Fellowships, and won the Lannan Prize for nonfiction writing in 2000.
Convinced that an activist role was needed to raise awareness about the need to reduce carbon dioxide emissions, Bill founded the grassroots climate campaign 350.org in 2009, which has coordinated 15,000 rallies in 189 countries. Bill and his family reside in Vermont—though whenever I reach him, it seems, he is at some distant airport.
David Orr, Ph.D.
If I were going to college again, I would seek out David and take every course he teaches. He is the Paul Sears Distinguished Professor of Environmental Studies and Politics at Oberlin College. He is the author of seven books, including Down to the Wire: Confronting Climate Collapse (Oxford, 2009) and co-editor of three others. He serves on the boards of the Rocky Mountain Institute, the Aldo Leopold Foundation, Bioneers, and the WorldWatch Institute. He's been awarded seven honorary doctorates and a dozen other awards, including a Lyndhurst Fellowship, a National Achievement Award from the National Wildlife Federation, and a Visionary Leadership Award from Second Nature.
David is well known for creating the Adam Joseph Lewis Center, which was named by an AIA panel in 2010 as "the most important green building of the past thirty years." Recently, he has been directing The Oberlin Project, which is seeking to create in the city of Oberlin a model of resilience and sustainability. The project's aim is "to revitalize the local economy, eliminate carbon emissions, restore local agriculture, food supply and forestry, and create a new, sustainable base for economic and community development." I believe that it is one of the most exciting community-scale projects currently underway in the country. David lives in Oberlin, Ohio.
Susan Roaf, Ph.D., FRSA
An architect, researcher, and author, Sue is a professor of Architectural Engineering at Heriot Watt University in Edinburgh and a visiting professor at both the Open University (the world's first successful distance learning university), and Arizona State University. I first met Sue when we were both presenting on climate adaptation issues at an American Solar Energy Society annual conference in 2006, and we've kept in touch since.
Sue is a pioneering architect, researcher, and author. Her book Adapting Buildings and Cities to Climate Change (Architectural Press, 1st edition 2005, 2nd edition 2009) was the first to so clearly articulate what design for a changing climate means. She serves on numerous boards and committees, including the International Solar Cities Initiative; the Scottish Institute of Solar Energy Research; the Initiative for Carbon Accounting (which she chairs); and the Edinburgh Centre for Climate Change. She lives in Edinburgh, Scotland.
Marc Rosenbaum, P.E.
I feel lucky to have Marc as one of my close friends and colleagues—for years a sounding-board and reality check for my articles and ideas relating to energy efficiency and green building. He is a mechanical engineer and, in my opinion, one of the leading practitioners in the country of truly integrated design. He is a licensed engineer in Massachusetts, Maine, New Hampshire, and Vermont, and a Passive House Consultant. Marc works for South Mountain Company, a leading design-build firm on Martha's Vineyard, and he also maintains his own consulting firm, Energysmiths, which he founded in 1979.
Marc's work goes far beyond energy issues to address water, wastewater, building science, indoor air quality, site planning, materials, and resilience. Marc has worked with leading architects and for leading university and corporate clients and five cohousing groups in New England. Projects he has worked on have received numerous awards. He is a recipient of both the Distinguished Service and Professional Leadership Awards from the Northeast Sustainable Energy Association. His online course, "Zero Net Energy Homes," has been highly popular.
*                        *                        *
You can read more about these individuals on the RDI Advisory Board page of our website.
Along with founding the Resilient Design Institute in 2012, Alex is founder of BuildingGreen, Inc. and executive editor of Environmental Building News. To keep up with his latest articles and musings, you can sign up for his Twitter feed.