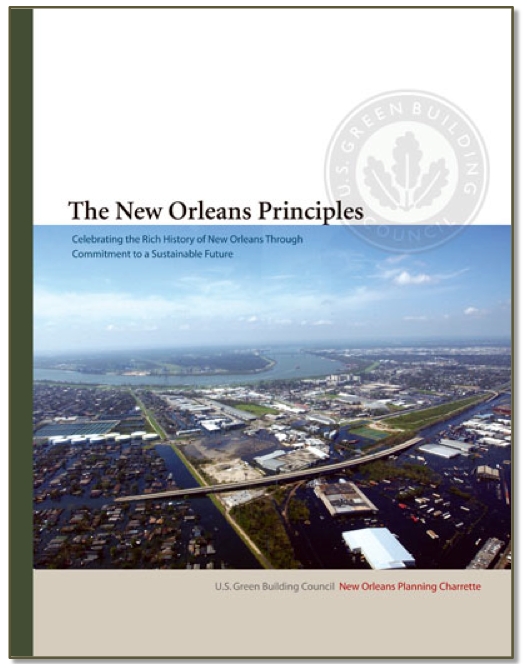 My interest in resilience was first kindled by work I did with many others in 2005, following Hurricane Katrina. Seeing the devastation wrought on the Gulf Coast by this storm, several chapters of the U.S. Green Building Council, particularly St. Louis and Little Rock, wanted to do what they could to help out.
I was invited into the process, and we organized a series of charrettes at the 2005 Greenbuild conference in Altlanta. Some 160 people participated in those charrettes, one-fifth of them from New Orleans and the greater Gulf Coast region.
Out of those charrettes emerged several reports, including the widely referenced New Orleans Principles. For several years those reports were readily available for downloading, but I learned recently that they had disappeared from the primary site where one could find them.
We are making the three reports available from the Resilient Design Institute. Low-resolution versions are posted, but if there is demand we can make high-resolution versions available as well. Below are brief summaries of the three reports and links for downloading.
The New Orleans Principles
The New Orleans Principles: Celebrating the Rich History of New Orleans Through Commitment to a Sustainable Future focuses on New Orleans, with much of it describing ten organizing principles to guide reconstruction and redevelopment of the city. These ten principles are as follows:
1. Respect the rights of all citizens of New Orleans. Displaced citizens who wish to return to New Orleans should be afforded the opportunity to return to healthy, livable, safe, and secure neighborhoods of choice.
2. Restore natural protections of the greater New Orleans region. Sustain and restore the coastal and floodplain ecosystems and urban forests that support and protect the environment, economy, communities, and culture of southern Louisiana, and that contribute greatly to the economy and well-being of the nation.
3. Implement an inclusive planning process. Build a community-centered planning process that uses local talent and makes sure that the voices of all New Orleanians are heard. This process should be an agent of change and renewal for New Orleans.
4. Value diversity in New Orleans. Build on the traditional strength of New Orleans neighborhoods, encourage mixed uses and diverse housing options, and foster communities of varied incomes, mixed age groups, and a racial diversity. Celebrate the unique culture of New Orleans, including its food, music, and art.
5. Protect the city of New Orleans. Expand or build a flood protection infrastructure that serves multiple uses. Value, restore, and expand the urban forests, wetlands, and natural systems of the New Orleans region that protect the city from wind and storms.
6. Embrace smart redevelopment. Maintain and strengthen the New Orleans tradition of compact, connected, mixed-use communities. Provide residents and visitors with multiple transportation options. Look to schools for jumpstarting neighborhood redevelopment and for rebuilding strong communities in the city.
7. Honor the past; build for the future. In the rebuilding of New Orleans, honor the history of the city while creating 21st century buildings that are durable, affordable, inexpensive to operate, and healthy to live in. Through codes and other measures, ensure that all new buildings are built to high standards of energy, structural, environmental, and human health performance.
8. Provide for passive survivability. Homes, schools, public buildings, and neighborhoods should be designed and built or rebuilt to serve as livable refuges in the event of crisis or breakdown of energy, water, and sewer systems.
9. Foster locally owned, sustainable businesses. Support existing and new local businesses built on a platform of sustainability that will contribute to a stronger and more diverse local economy.
10. Focus on the long term. All measures related to rebuilding and ecological restoration, even short-term efforts, must be undertaken with explicit attention to the long-term solutions.
For each of these principles, the report includes three sections: Background and Context; Benefits; and Policy Recommendations and Actions.
Download the New Orleans Principles (1.1 MB)
Gulf Coast Reconstruction
Gulf Coast Reconstruction: Creating a Disaster-Resilient and Sustainable American Gulf Coast, is closely modeled after The New Orleans Principles, but more general, covering the entire Gulf Coast region, rather than just New Orleans. The examples shown are drawn from throughout Louisiana, Mississippi, Alabama, and other Gulf Coast states.
Download Gulf Coast Reconstruction (860 KB)
Learning From Disaster
The third report, Learning from Disaster: A Vision and Plan for Sustainable Schools and Revitalized Public Education in New Orleans in the Wake of Hurricanes Katrina and Rita, focus on schools and the opportunity to improve both school buildings and education in the reconstruction following the 2005 hurricanes. The back-to-back hurricanes destroyed or heavily damaged 236 public and private schools in Louisiana and another 30 in Mississippi. 245,000 students and 30,000 teachers were displaced by the damage, which took months to years to repair.
Learning From Disaster is organized into three parts: School in the Context of the Now Orleans Principles; A Solutions Blueprint for Greening New Orleans Schools; and Benefiting from the Experiences of Others, which profiled three schools from around the country that provide exemplary models of a green schools agenda.
Download Learning from Disaster (1.1 MB)
*                        *                        *
Along with founding the Resilient Design Institute in 2012, Alex is founder of BuildingGreen, Inc. and executive editor of Environmental Building News. To keep up with his latest articles and musings, you can sign up for his Twitter feed.