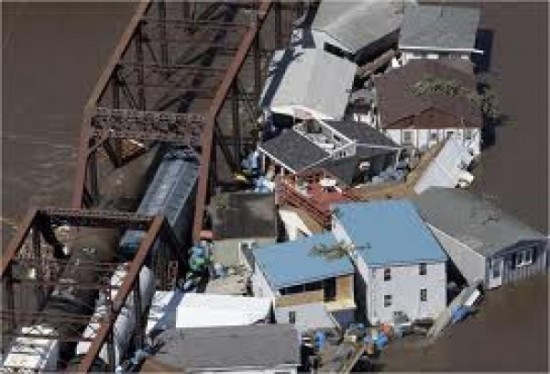 There are a lot of things in buildings that would not be there without the threat of denied insurance.  Once upon a time, insurance companies drove the installation of fuse boxes in houses, and later the shift from fuses to circuit breakers.  In many US states today, insurers will not insure homes with fuse boxes, not to mention older technology like knob and tube wiring.  As a result, the incidence of electrical fires has dropped significantly over past decades, saving lives and property.
This is just one example of how insurance company practices – and the electrical, fire, sanitary, and other building codes they align with – exert an important long-term influence on the upgrading of our built environment, with enhanced safety, comfort, and, ultimately, economy and resilience as a result.  We at RDI were therefore very interested to read the new report from CERES – Insurer Climate Risk Disclosure Survey: 2012 Findings & Recommendations – that came out last week.  CERES is one of the nation's most credible voices when it comes to sustainability, climate change, capital markets, and the financial services industry.
Several key points are worth noting:
A tiny but growing minority of insurance companies – among them some of the major national firms – is starting to implement climate strategies.
In the survey, only 23 companies out of a total sample of 184 in the property & casualty (P&C), life & annuity, and health insurance sectors reported comprehensive climate change strategies.
Across the sample as a whole, the levels of awareness, commitment, and action were extremely uneven.  Small companies tend to be the least informed and prepared.
More than half of the 23 leaders are European-owned.  A majority are P&C insurers.
Most respondents saw climate change as a thing of the future, even though its effects are already being felt.
Many insurance companies' short-term outlooks are compounded by their reliance on rear-view actuarial models based on narrow climatic variation ranges that need updating, as they ignore the rising probability of such phenomena as windstorms, wildfires, flooding, and ocean-level rise.
Such weather events are causing unprecedented payouts by insurers.  Hurricane Sandy alone caused an estimated $50 billion in economic losses, of which a significant portion was insured.
Climate-change-related disasters threaten industry profitability, and may drive less-prepared companies from a variety of asset and risk classes.  A reduction in the availability and affordability of insurance options and risk management services can threaten the economy.  And, as suggested above, insurance companies have an important role to play in moving our society in a more resilient and sustainable direction.
The CERES report notes the importance of more realistic, robust climate change policies for insurance companies owners and investors.  As the industry becomes better at assessing climate risks, its profits will be safeguarded.  Certain kinds of risks will continue to be turned over to government, as in the case of the National Flood Insurance Program and the government-created, non-profit Florida Citizens Property Insurance Corporation, which controls the largest shares of both the homeowner's and commercial property markets in Florida.  Certain areas of risk may become uninsurable.  But a vigorous, competitive insurance industry is needed in all other areas where, despite climate pressures, insurance remains a viable financial tool.
For this to happen, a great deal of industry and public education is needed.  So are greater efforts by government to create incentives that induce laggards to implement climate policies.  In the end, the voice of the market will speak loudest, and the insurance companies who remain deaf to its message about climate change will suffer.
The Resilient Design Institute sees well-informed, realistic insurance companies as critical allies of architects, builders, civil engineers, fire-safety inspectors, and others working to enhance the protective capacity, survivability, and resilience of our homes, buildings, and infrastructure.  The industry should pivot quickly, seeing this as an opportunity, not a threat or non-issue.  Adjusting policies and rates to better reflect climate risks may turn out to be one of the fastest ways to price the consequences of global warming into the economy, and – with no initiative likely to come from Washington – one of the only ones.   The maturing of this industry's grasp of climate-change risk cannot come soon enough.